Antarctica — an attracting continent with it´s unique fauna and amazing mountains. It is a place to dream about. And we suggest you to make the dream come true. This program is not just cruise to Antarctica, it is a real ski expedition, an opportunity to leave the first track on the Antarctic mountains, to watch a continent from it´s amazing summits. On the  Clipper Adventurer expedition ship we we´ll sail past Cape Horn, across the Drake Passage and spend 7 saturated days on Antarctic peninsula.
The expedition includes skitouring, lectures that cover the history, biology, geology and politics of the Southernmost continent. And of course, discovery of varied fauna of the continent — whales and killer whales, penguins, leopard seals, and other animals.
Dates: November 2-14, 2020.
Itinerary*:
Day 1 Arrive in Ushuaia, Argentina. Preparation and trainings. Overnight in Ushuaia.
Day 2 Board the Clipper Adventurer and set sail down the Beagle Channel.
Day 3-4 Cross the Drake Passage. Sperm, fin, and humpback whales, along with skies of seabirds will accompany our journey. Arrive at Deception Island's volcanic crater on the afternoon of Day 4 for a hike.
Day 5 Ski and trekking objectives at Neko Harbour. Zodiac cruises, penguin rookeries, hiking.
Day 6 Ski and trekking objectives at Anvers and Wenke Islands. Port Lockroy scientific base and museum. Visit gentoo and adelie penguin habitat.
Day 7 Ronge/Island/Mt. Britannia. Visit penguin rookery at Georges Point.
Day 8 Ski and trekking objectives in Paradise Bay. Zodiac excursions. Visit penguin rookery and Almirante Brown Station.
Day 9 Lemaire Channel/ Mt. Scott/ Mt. Demaria/Mt. Mill ski descents. Visit the Ukrainian Vernadsky scientific station. Killer whale and leopard seal sightings.
Day 10 New ski descents and nature cruises of Charlotte Bay; begin journey north in the evening.
Day 11-12 Sail Drake Passage; pass the dramatic cliffs of Cape Horn.
Day 13 Disembark the Clipper Adventurer in Ushuaia, Argentina.
*Flexibility is necessary for all Antarctic travel. This program is subject to change throughout the journey depending on ice, weather and local conditions.
Our partner - Ice Axe Expeditions, with more than 10 years of Antarctic expedition experience.
The boat. Designed to carry travellers in comfort to the most remote corners of the world, Sea Adventurer was built in Yugoslavia in 1976, refurbished in 1999 and had further upgrades in 2002. You will be impressed by this ice-strengthened ship, which carries up to 117 passengers and features a spacious forward lounge and bar, window-lined dining room and promenades.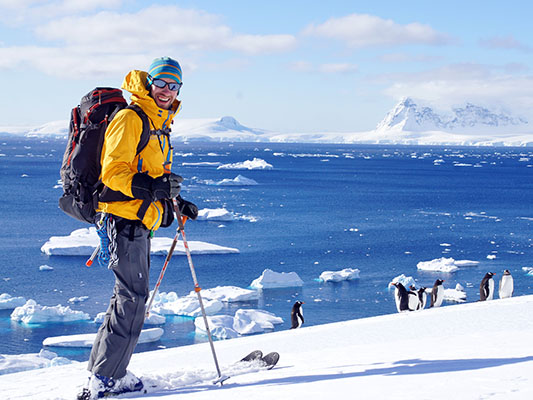 Price:
Lower Deck Twin: $11,495 per guest
Main Deck Twin (porthole): $12,995 per guest
Main Deck Twin (window): $14,995 per guest
Main Deck Twin Single: $21,995 per guest
Upper Deck Superior: $16,495 per guest
Adventure Activity Options on this Voyage:
$1 500 fee per guest for backcountry skiing
$1 200 fee per guest for ski kayaking
$600 fee per guest for snowshoe trekking
What´s included:
•1 night pre-expedition shared hotel accommodation in Ushuaia, Argentina. This room includes a continental breakfast.
•Group dinner in Ushuaia.
•Group transfers from the hotel to the ship on embarkation and from the ship to the airport on disembarkation and all miscellaneous service taxes and port charges.
•Breakfast, lunch and dinner on board the Clipper Adventurer.
•Shore landings and Zodiac excursions as permitted by weather and local conditions.
•Presentations by our Expedition Team and guest speakers.
•Expedition certificate.
•Photographic DVD chronicling the voyage.
•Organization and guiding (skitouring and excursions).
•Use of a pair of rubber expedition boots on loan for shore landings. These will be returned at the end of the voyage.
What is not included:
•Airfares to or from your home city, whether on scheduled or charter flights.
•Passport and visa expenses. Tourist entry fees may apply depending on your nationality.
•Any government arrival and departure airport taxes.
•Ski or trekking equipment.
•Any meals ashore with the exception of breakfast at the host hotel and the Welcome dinner on the evening prior to departure.
•Baggage, cancellation and travel insurance (emergency medical and evacuation insurance is mandatory. Ice Axe can help you to arrange this insurance if you need assistance.)
•Excess baggage charges.
•Laundry, bar, beverage and other personal charges onboard the ship or at the hotel.
•Telecommunications charges or the customary gratuity at the end of the voyage for stewards, guides, and other service personnel.
•Tips for guides and hospitality staff.
•Travel insurance.
Participant´s requirements:
- Intermediate or higher skiing level in any snow conditions.
- Healthy and in good physical shape.
- Able skin up at least 1000 vertical meters per day.