What is Ganalsky range? Here is a short explanation of the area: "The Ganalsky range located on the south-east of Kamchatka peninsula. It stretches for 80km, with a width of about 20km. The average height of it is 1500 – 1750m with some peaks reaching 2000m. This range provides really interesting and challenging terrain for skitouring and ski mountaineering. Steep exciting couloirs and stunning peaks are the hallmark of this area. Most of the ski lines and slopes are still unskied."
Sounds interesting? Yes, it is. One day this text catch up one snowboarder from France, who contacted us and ask to organize few expeditions in Kamchatka, and first of them became the full circuit around Ganalskie Vostryaki range – a small, but the most stunning part of the main range.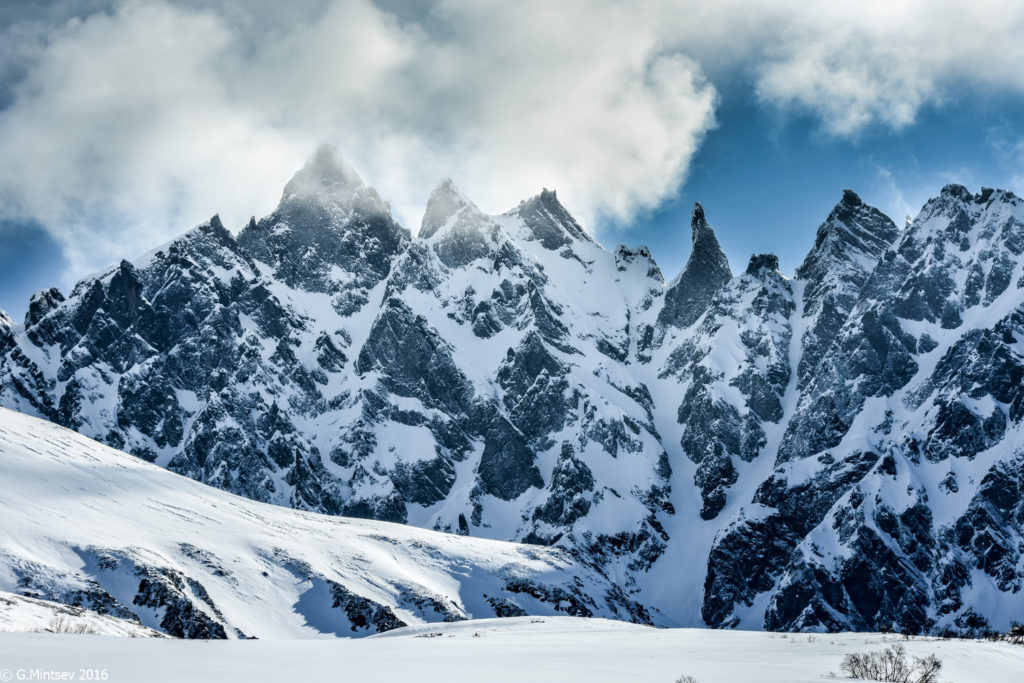 For many years this area was interesting only for local mountaineers, cause of many amazing routes from 3 to 5b (AD to TD), but few people skied some gnarly lines even in 90's. Hmm, actually, it was just one man, local mountain guide Fedor Farberov. He skied most of first lines in this area, as well, as made first and only one full ski-circuit around the range. By the way, he and his friend also done almost all first TD routes in the area, but that's another story.
So, why not to become second people who do it? And one April's day we came to the area. One day of approach (combine snowmobiles and touring) and we set up a camp in the valley with stunning view.
Weather forecast for the few days was good enough, and after we expected some snow and strong wind. So we decided to use these good days and ski some real stuff. First goal was the eye-catching couloir right in the centre of picture, heading to the right part of "Finger" rock. One hour for approach, snow stability check and we are boot-packing up.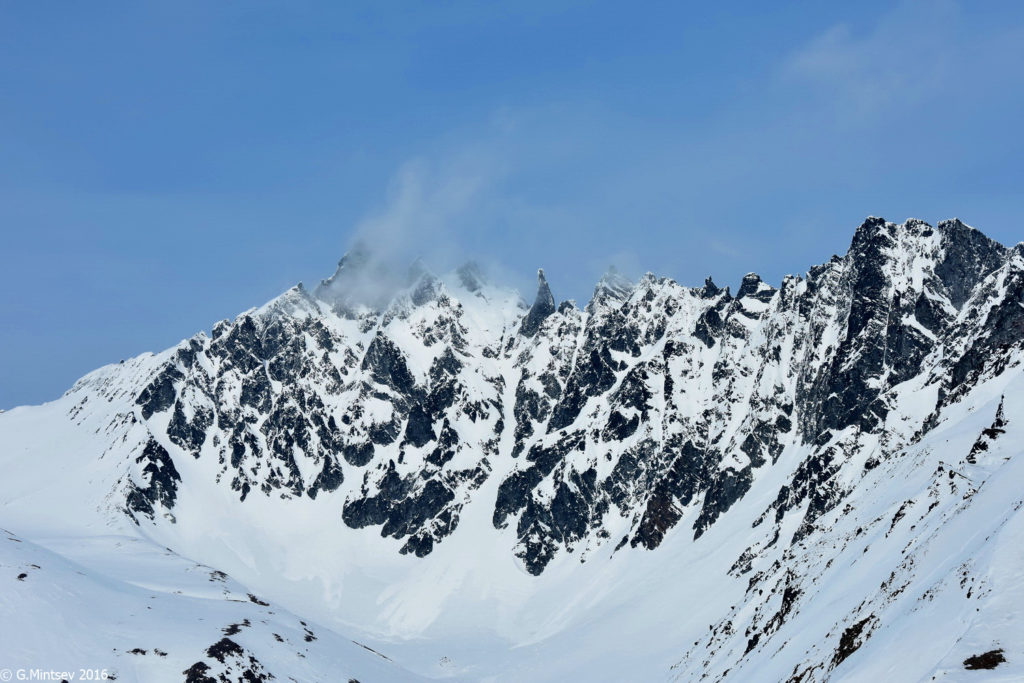 Of course, as soon as we start climbing, weather has changed and we got clouds right in the middle of the route. Start and finish were clear, and middle part as you can see on a picture below.
Snow was pretty good, unless first person (myself, obviously) spent some energy making good steps.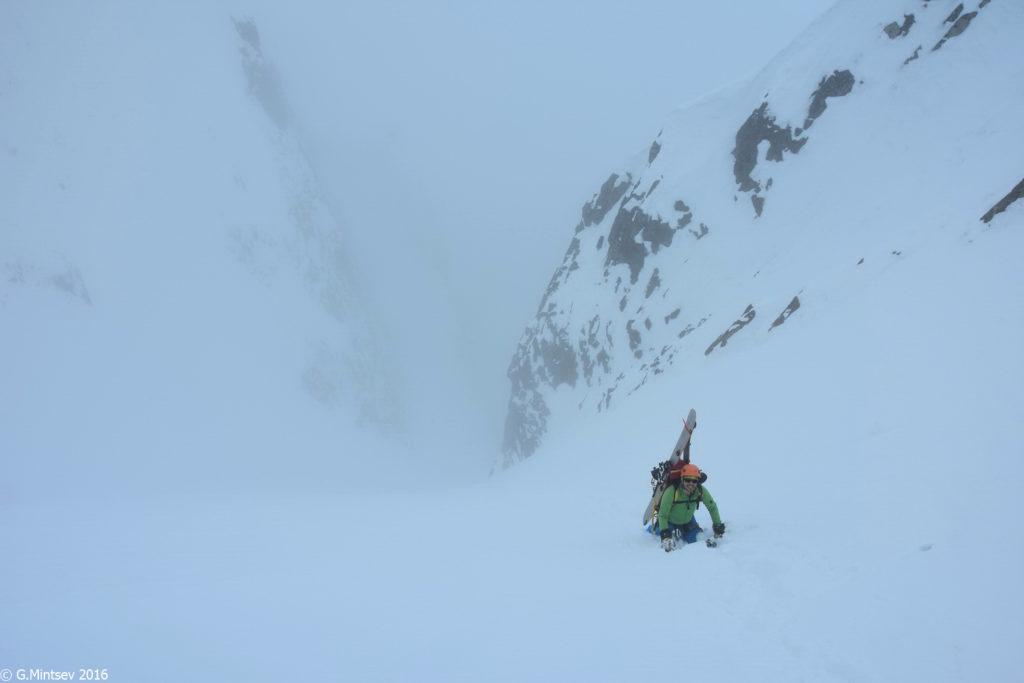 In few hours we reached the pass, and were admired by a view on other side of range, looking on the valley where we should arrive in couple days (going clockwise around the range).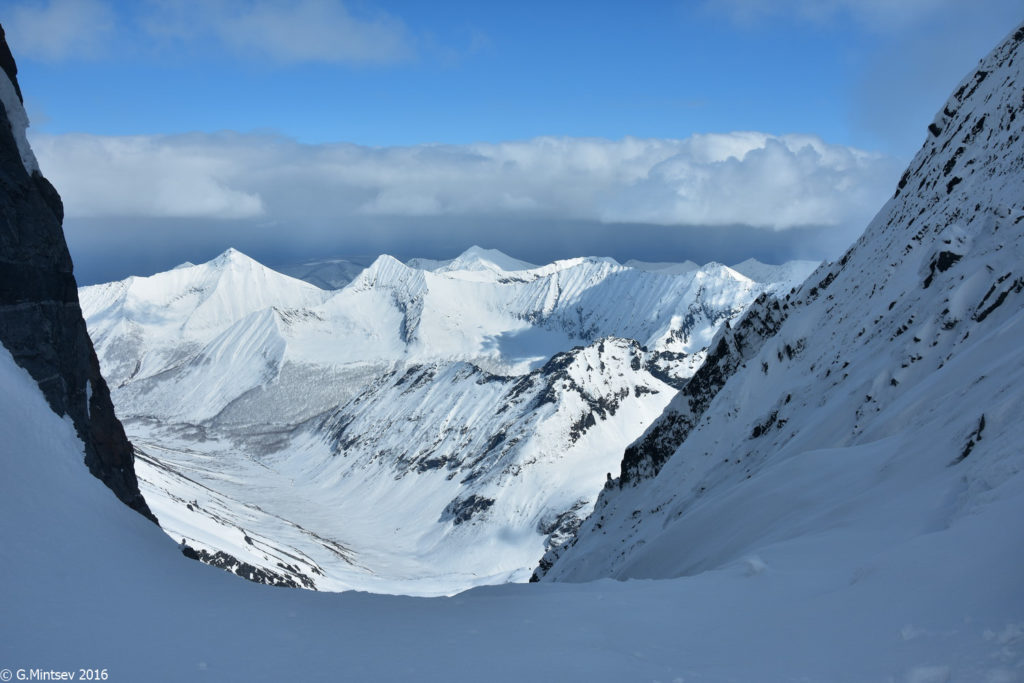 Preparation before descent. Laurent looks happy.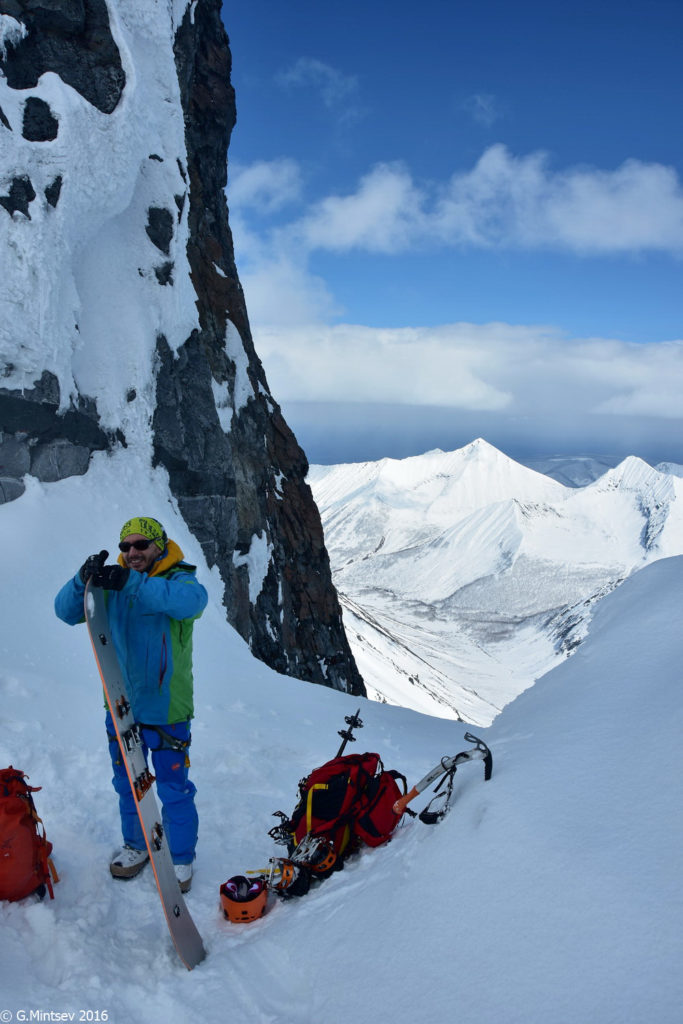 And yes, the run was very good, but a bit like a swimming in the milk. Good chance to check your balance and vestibular apparatus. I just got a chance to make few pictures at the very end of couloir.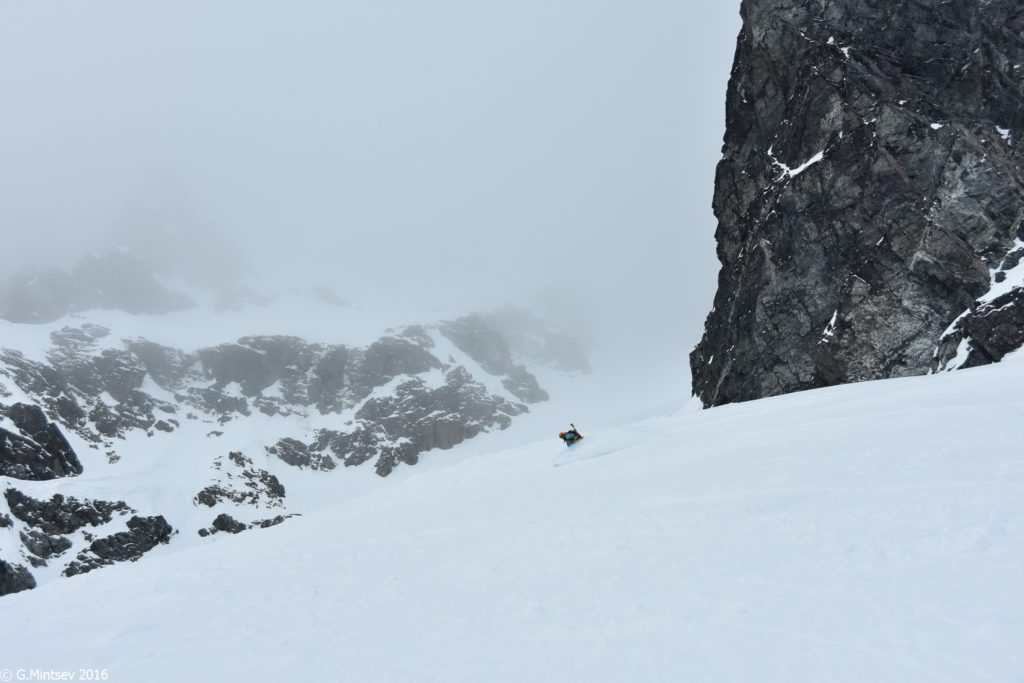 On a way back to camp we found that local animal had crossed our morning track and gone somewhere. Track looks like a ground squirrel, ya?
Don't worry, grizzly bears in the wilderness of Kamchatka are not so interested in humans, we are even not in their menu.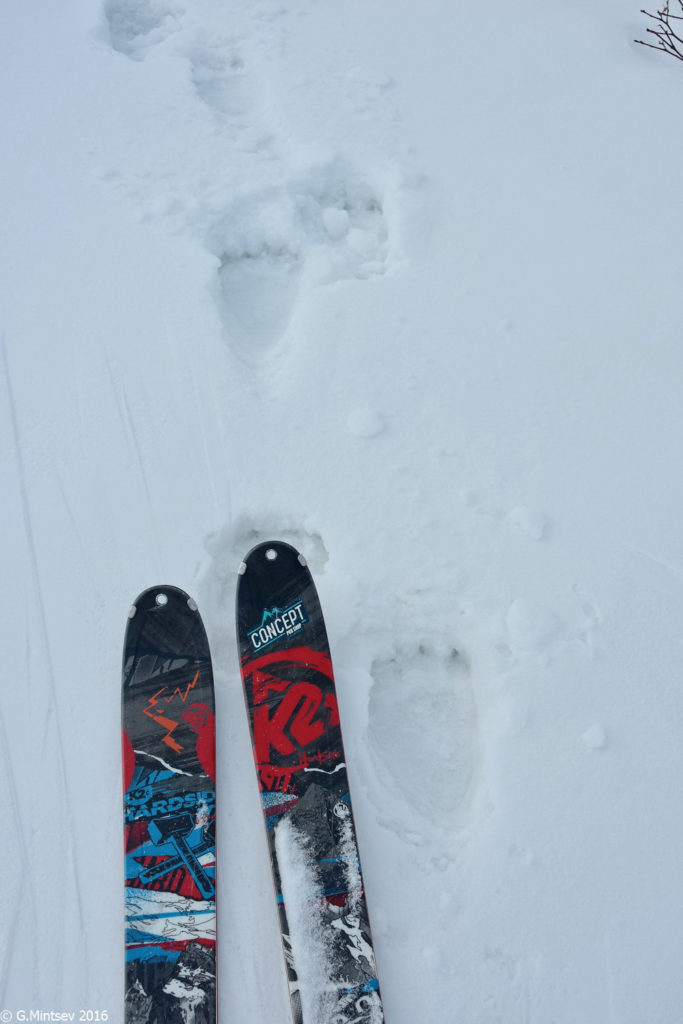 Next day we decided to change the location, and check the next valley. And obviously, it was only one way to complete circuit. On a way to the pass, we observed our line from yesterday, and some other attractive couloirs. As you can see, there are way more places to ski, and you can spent a week ripping the slopes.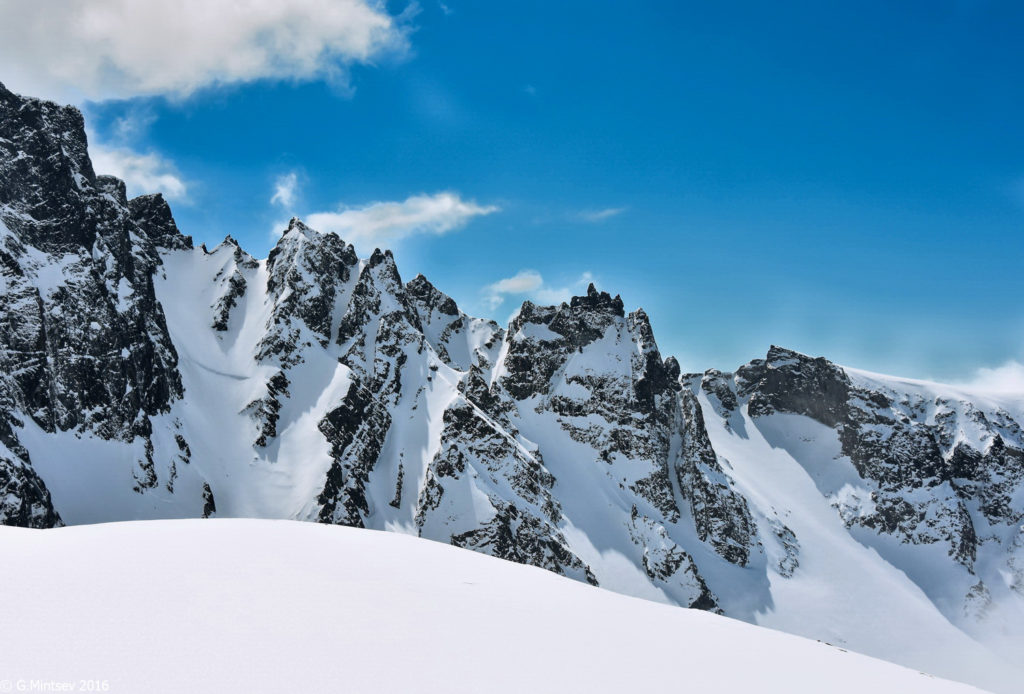 And here is a picture of "Finger" and our tracks, on a right foot of the rock. From this perspective, it does not look like a finger, and more like an another human's organ, ha-ha. But as soon as not so much people knows about this view, we keep calling it "Finger".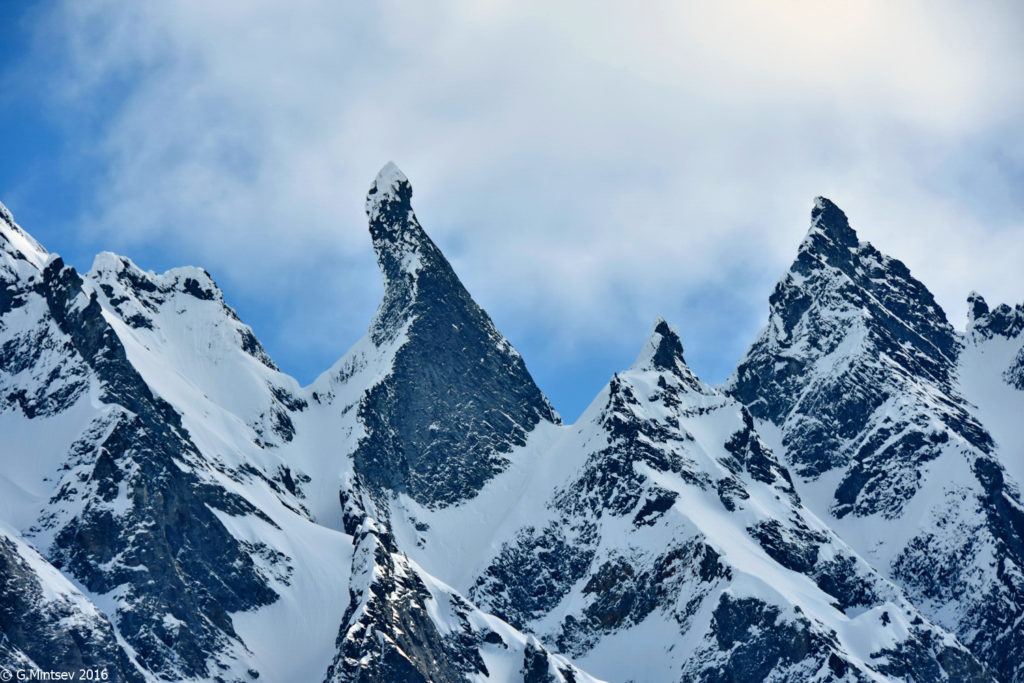 In few hours we came to the pass. And we were very excited of the descent. About 1000 meters vertical, average steepness 40 deg., pretty nice snow conditions – hard and crusty, with 5 cm of fresh snow over this. To make this cocktail more spicy just add our backpacks, with 25-27 kilo each. Oh yes, it was a perfect run.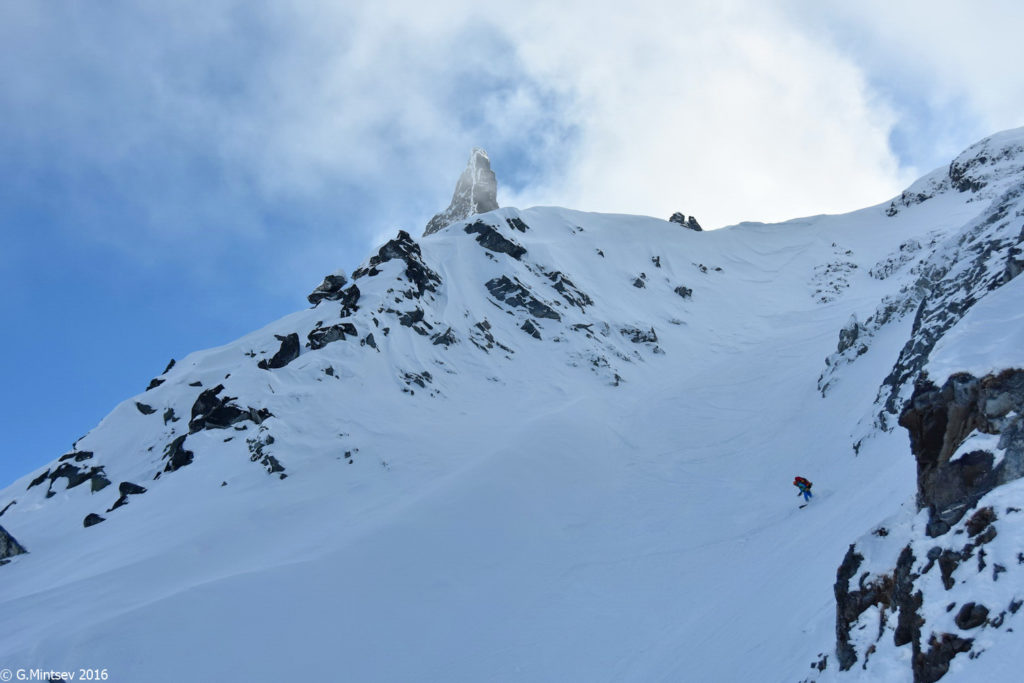 Here we are. Next camp with a view. Sitting, resting and sending a text to our dispatcher in the city.
You can see our couloir, but only second part, our line turn to the left in the middle. This terrain is really gnarly, and navigation is tricky even in good weather. I was lucky to get some pictures from years of heliskiing in this area, from aircraft on a flight from Moscow to Petropavlovsk, and from summer hikings, and it helps a lot. Otherwise, chance to ski to the cliff is pretty high here.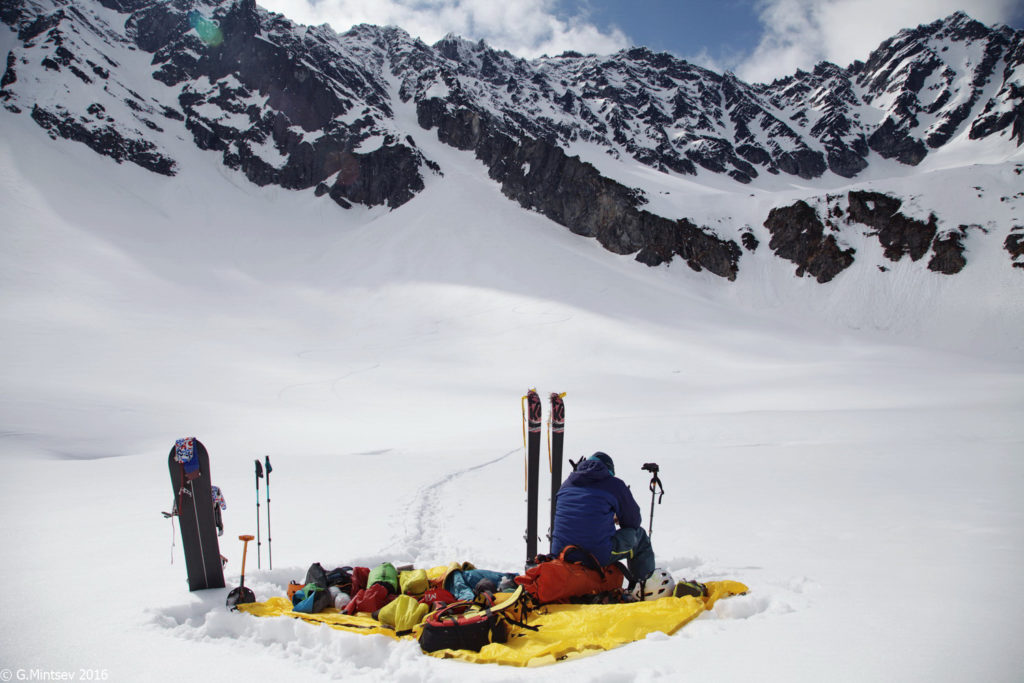 We decided to move again, in the next valley, but did a few-hours touring around to enjoy the views.
Here is a good picture to understand the scale of place. On the left low side of the picture you see two small dots, these are our tents. To the right from a black tower you see the couloir, and our entrance was a bit further, on a saddle.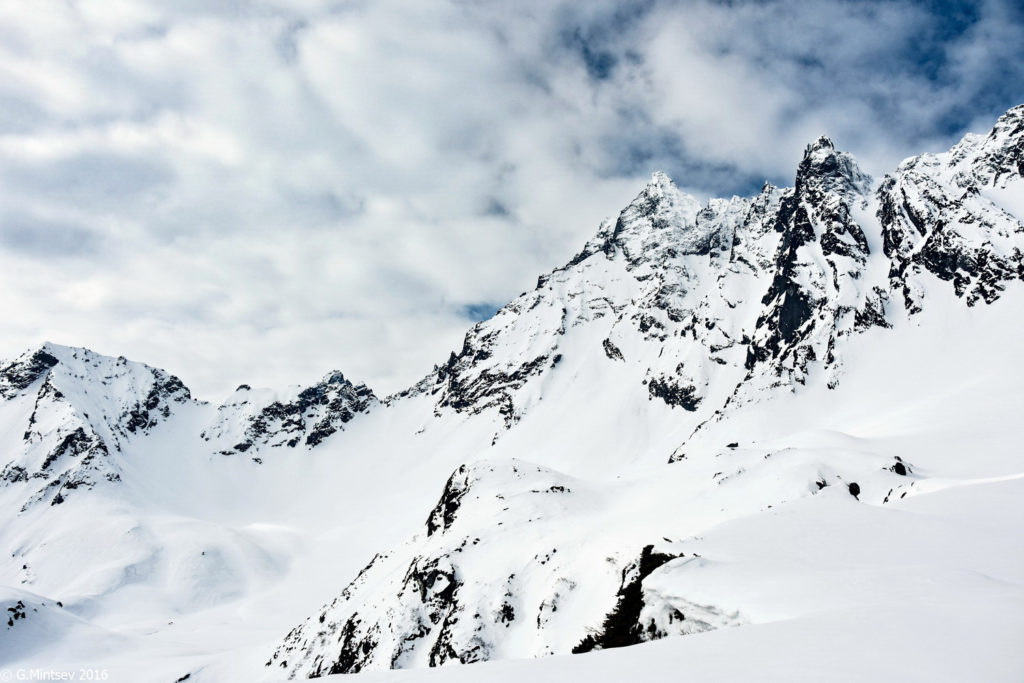 By weather forecast we expected few days of strong wind and some precipitations. We put our camp in wind-sheltered area, and tried to skitour a bit, but were blown away (physically) after one hour of skinning up.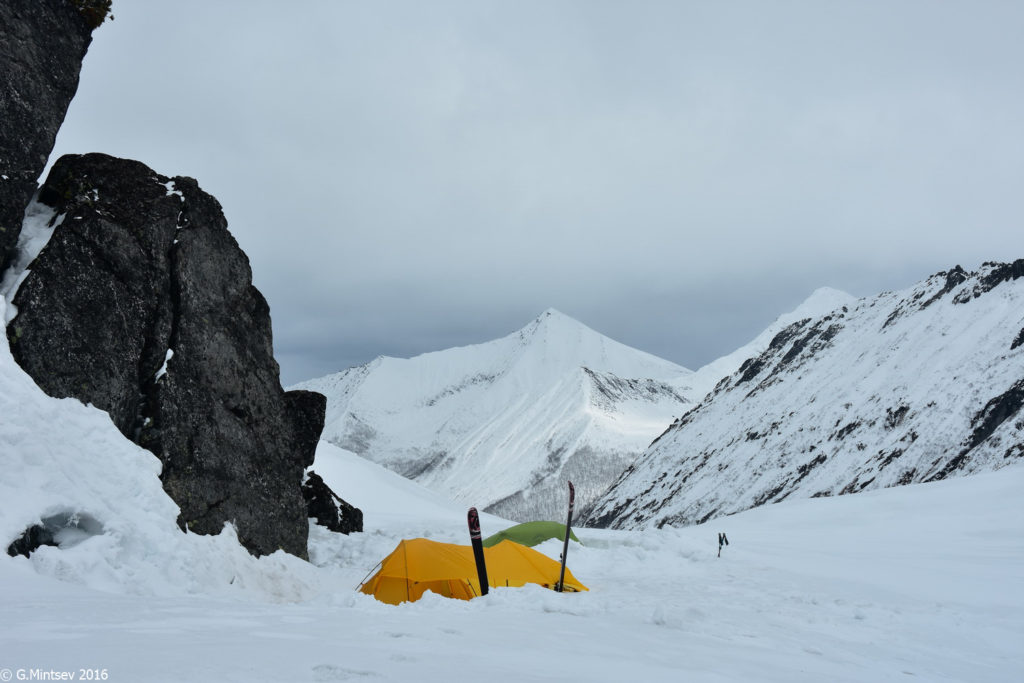 Next two days we were sleeping, eating and thinking about meaning of life. And we nearly found the answer, but weather has improved, and we went for the skiing.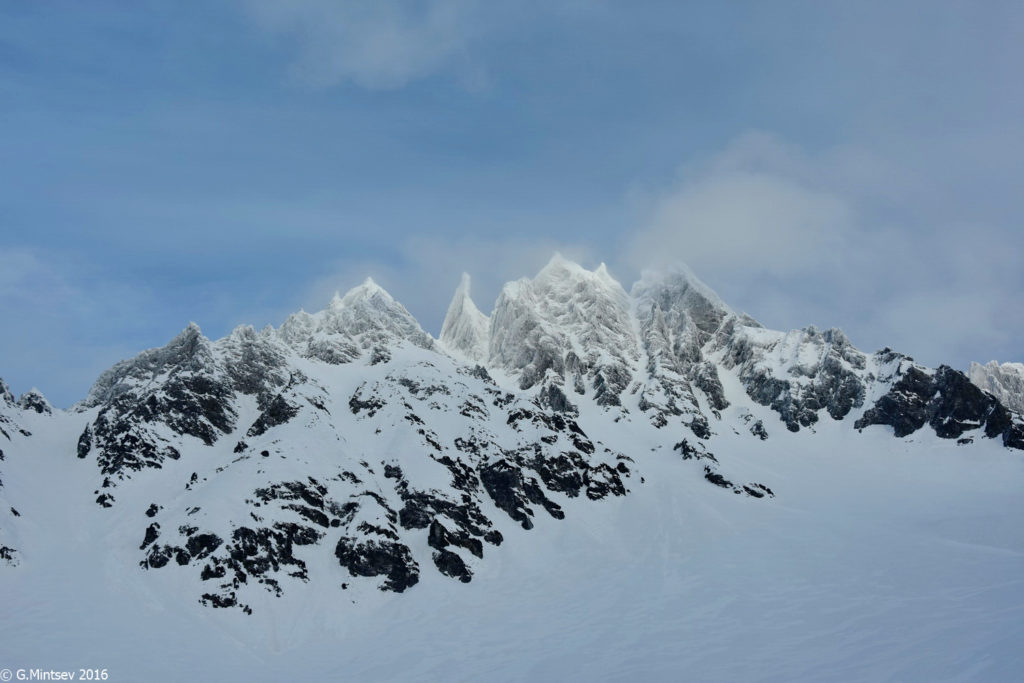 Strong wind, snow and low temperatures has painted beautiful pictures on stunning peaks.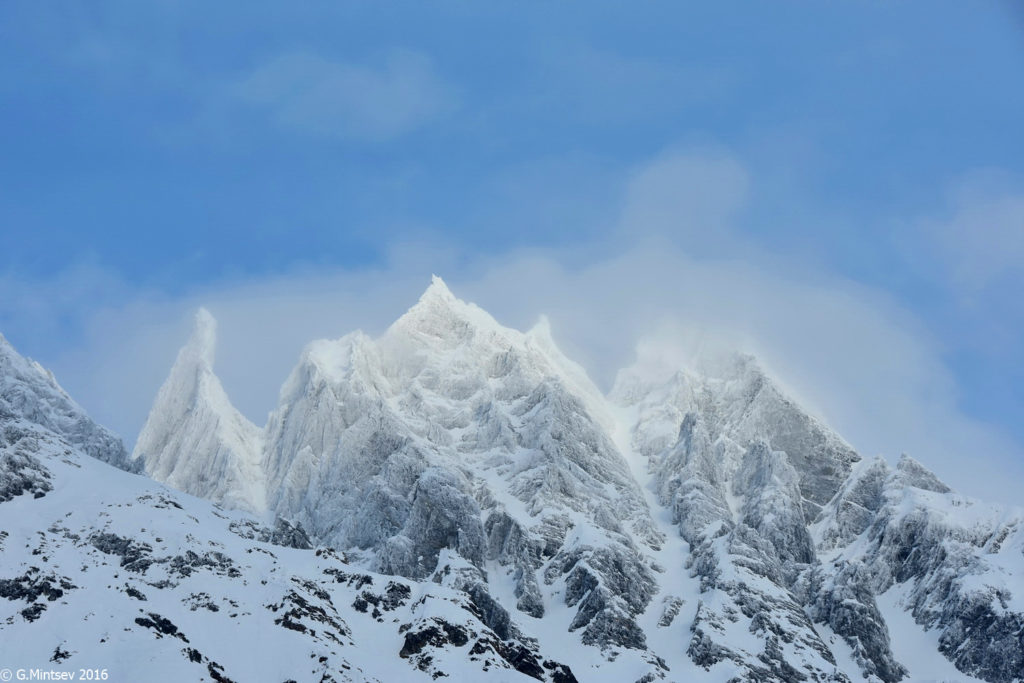 Another interesting question (after the last one) – What is the definition of circuit? Answer is – A roughly circular line, route, or movement that starts and finishes at the same place. For us, it meant that we have to come at the place of start. And as soon as we had a time limit, we have left our valley and climbed another pass.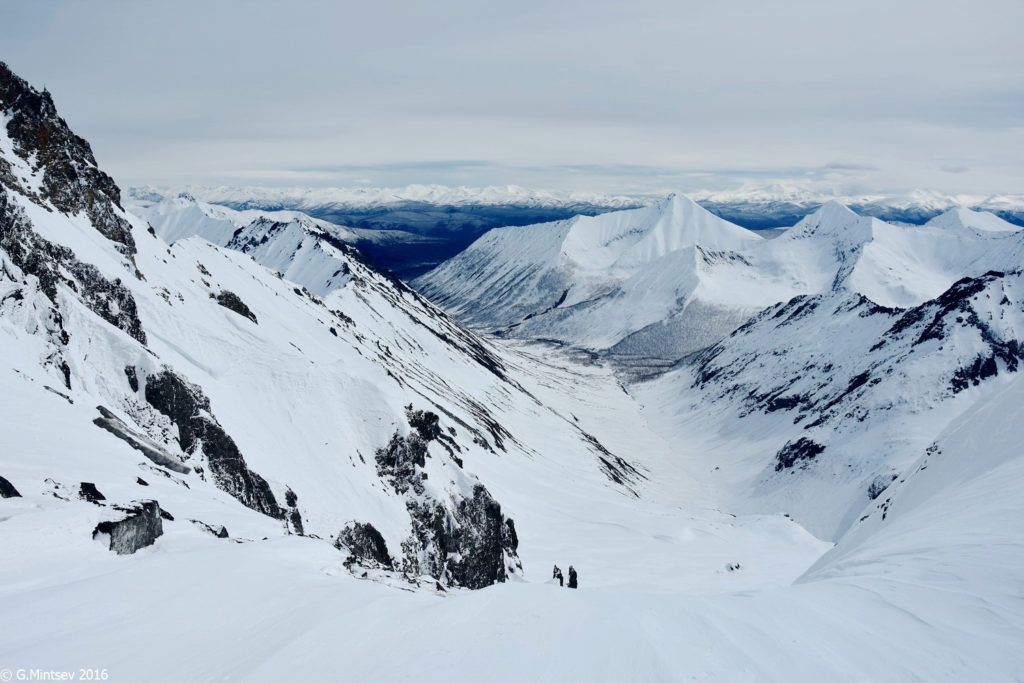 Ordinary scenery of Ganalsky range. And another unskied lines.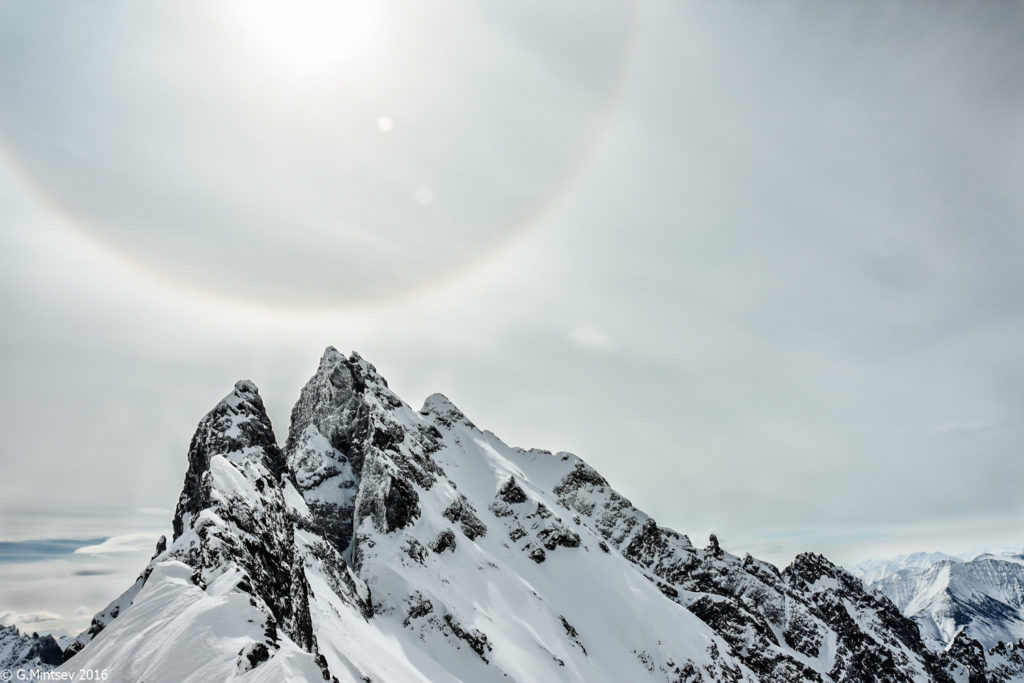 Giant volcano on the horizon – Koryaksky. In few weeks we will be standing on top of this one, but before we have to finish our current route and spend 10 days in the wilderness of Sredinny range. Be patient, I'll tell you this story a bit later.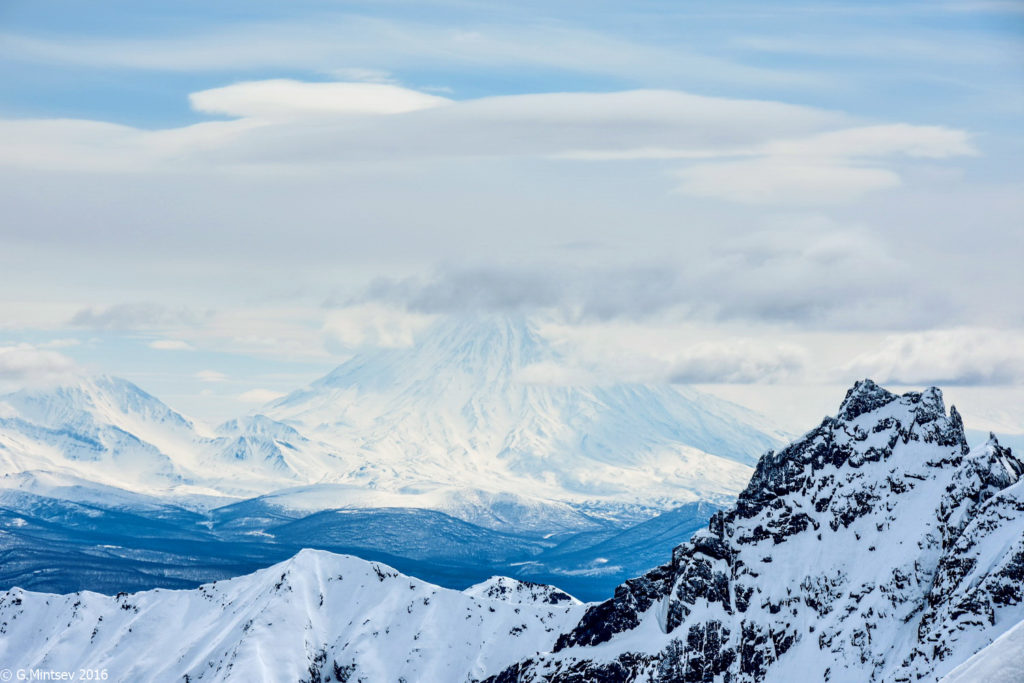 We skied to the next valley, set up a camp and went for few hours of skitouring. Climbed nearest ridge and were impressed by a view on the other side of central valley of Kamchatka. This is Sredinny range, biggest and most unexplored mountain territory of peninsula. And our next expedition should be there, just 200 kilometres to the north (to the lookers right, in simple words).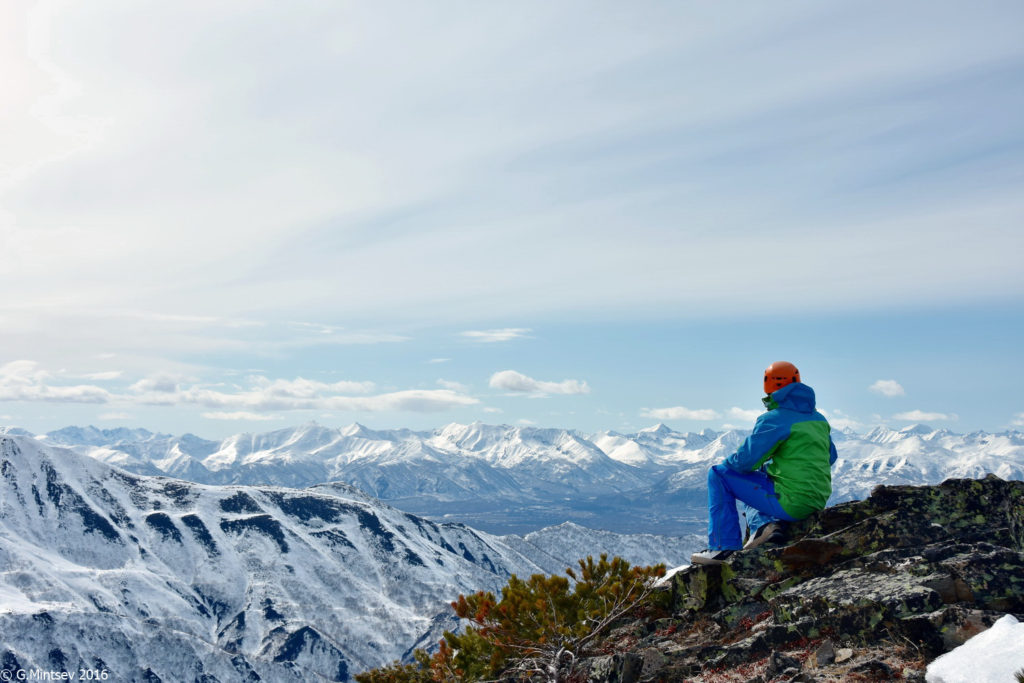 Next morning made us glad of sun and coming valley fog, which however has disappeared in few hours. Another couple hours of touring, catching snowmobile and we were on a way to civilization.
So, even we have not skied some desired lines, we completed our goal and became second people who made this route. Not bad, not bad.
And couloirs… They will stand there for many years, and one day we come back and ski them. Stay tuned.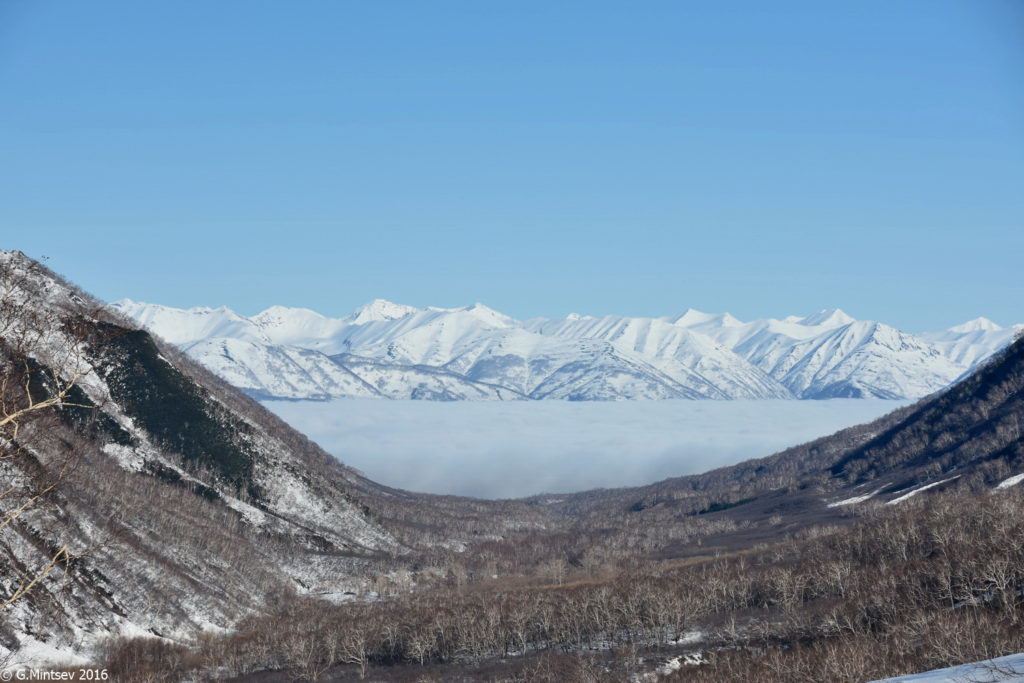 Author: Grigory Mintsev, Lead Guide of Skiing in Russia.
Ganalsky range, Kamchatka peninsula, April-May 2016.