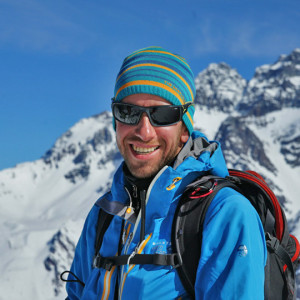 Grigory Mintsev
Lead Guide of Ski­ing In Siberia, ACMG Ski Guide.
Grigory is ori­gin­ally from Kamchatka peninsula and has de­voted his time to ex­plor­ing the moun­tains of the re­gion from child­hood. He's been guid­ing in Kamchatka since 1999 and has run guid­ing pro­jects in winter and summer, or­gan­ised ava­lanche courses and worked for the Rus­si­an Moun­tain Guides As­so­ci­ation (RMGA).
Long time ago he has spent several years in Siberia, and fell in love in this wild and beautiful country. Since 2011 he is in Siberia every winter season, skiing powder and sharing the beauty of this place with our guests.
He is one of few Rus­si­ans who par­ti­cip­ated in the Ca­na­dian Moun­tain & Ski Guide Pro­gram, and he is the first and only Ski Guide in Rus­sia to be cer­ti­fied through the As­so­ci­ation of Ca­na­dian Moun­tain Guides (ACMG Ski Guide).
His travel and guid­ing ex­per­i­ence in­cludes many great des­tin­a­tions, such as Kamchatka, Siber­ia, Cau­cas­us, Ja­pan, South Amer­ica, Canada, Morocco, In­dia and Ant­arc­tica to name a few. Even though he is based in the Chamonix val­ley in France, Grigory spends sev­er­al months each year in Siberia and Kamchatka ski tour­ing and ski­ing what he be­lieves to be on of the best moun­tains in the world.
CAA Avalanche Operations Level 2 diploma. Avalanche instructor, forecaster and safety consultant. Wilderness First Responder. Mem­ber of the RMGA Tech­nic­al  Com­mit­tee, instructor-assistant at the Rus­si­an Moun­tain Guide School.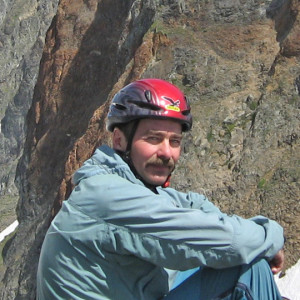 Fedor Farberov
RMGA Mountain Guide
A brilliant member of our Guide team; our teacher and mentor. One of the most experienced and highly educated Russian guides, Fedor is certainly the best specialist for the Kamchatka region.
In early 1980-th Fedor pioneered extreme skiing and ski-alpinism in Kamchatka.  In 30 years of active ski-mountaineering he has made many dozens multiday and multi-weeks ski-mountaineering trips and traverses into remote mountain ranges in Kamchatka as well as more than a hundred first ski descents from most difficult mountains in Kamchatka including its highest volcanoes Kluchevskaya sopka 4850m and Kamen 4575m. Many of Fedor's ski-mountaineering trips where done solo including numerous big ski traverses. Several of his solo unsupported ski traverses were up to 35-days long. Fedor and his friend Vladimir Lopatnikov were the first Russians to ski Orient Express couloir on Denali (McKinley) in 1994.
Fedor was the first Russian guide who went through the program Adventure Guide Diploma in Thompson River University, Canada in 2001-2002. During this study Fedor successfully attended many guides training courses in mountaineering, rock climbing, ski-touring, avalanche safety and rescue.
Since establishing of the Russian Mountain Guides Association in 2010 and until 2018 Fedor was serving as Technical Director of the RMGA as well as Training Programs Coordinator & instructor at the Russian Mountain Guides School. Now Fedor working in Kamchatka Search and Rescue Team as lead rescue instructor. He is retired from active guiding but do lot of consulting and help to our guide's team.
CAA level 1, Wilderness First Responder.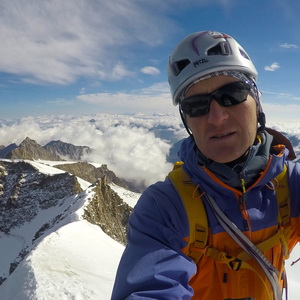 Sergey Fursov
RMGA Mountain Guide
Sergey was the very first guide in Russian Mountain Guide Stream to get the Mountain Guide certification. And this could happen only because he is a very talented and strong skier and mountaineer, with extensive experience of skiing and guiding in many mountain places of Russia and all over the world.
His home mountains are Caucasus, where he is guiding all year around and also do avalanche forecasting work for "Rosa Khutor" ski resort in Krasnaya Polyana (Sochi). Besides guiding, he is in charge for Russian mountain guide school management as the Technical Director of Russian Mountain Guide Association.
Sergey joined our team recently and we are very proud of it, such a pleasure to work with so experienced and friendly person.
CAA Avalanche Operations Level 1 diploma, avalanche forecaster. Wilderness First Aid courses by RMGA standards.
Languages: English, Russian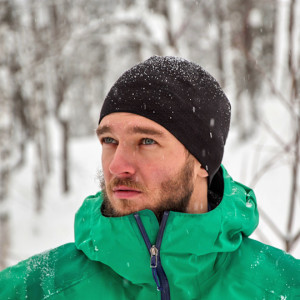 Dmitry Fedorchenko
RMGA Apprentice Ski Guide
Dmitry was born in a small Siberian village and having grown up there, the local woods and mountains are literally his playground. He started cross-country skiing at the age of 3, then soon progressed to both snowboarding and Alpine skiing.  He continued this until he started studying Economy in Saint-Petersburg which forced him to stop the mountain sports.  Before long he finally learnt that an office job is not for him.  We found Dmitry several years ago in British Columbia, studying the Adventure Guide Diploma in Thompson River University – alongside shredding Canadian powder.  Throughout these studies he has spent some time as an apprentice guide in Snowy Mountain skitour lodge (Cariboo Mountains, BC). Dmitry's mountaineering experience includes many mountains in Siberia, and also Belukha Mountain, the highest peak of the Altai Mountains.
Dmitry guiding in Siberia, the Caucasus and in Kamchatka. He is also an Operations Manager at Luzhba skitouring lodge.
CAA level 1, Wilderness First Responder, Canadian Ski Instructor Alliance level 1.
Languages: English, Russian.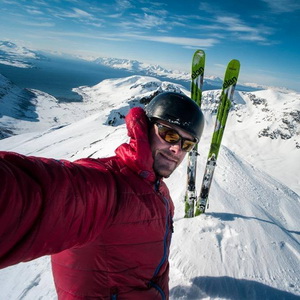 Peter Schön
ACMG Ski Guide
Originally from Germany, Peter been living and skiing in many places in the world. Austria, Canada, Japan, Armenia to name a few. Currently, he divide his home between mountains of Norway and Georgia. He has been a professional/sponsored ski-alpinist, with several first ski descents on 5000-6000m summits in the Caucasus, Andes, Tien Shan and Pamirs. In parallel he was doing study in Earth Sciences and in snow/avalanches sciences (PhD student).
Been working for many years as avalanche technician (avalanche safety consulting and forecasting), avalanche courses instructor and ski guide in Norway and Georgia.
To say that we are happy to see Peter in our team is to say nothing. He adds amazing amount of experience and knowledge, as well as a good ski style and passion to powder skiing.
CAA Avalanche Operations Level 3 diploma, CAA professional member. Wilderness First responder.
Languages: German, English, Norwegian, Russian.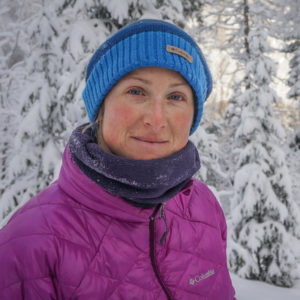 Anna Khankevich
RMGA Ski Guide
Before starting her guiding carrier, Anna was professional ski athlethe. She took part in Russian and International freeride competitions and won some of them. During the competitions and during personal trips she has been skiing in many destinations, such a Kamchatka, Siberia, Caucasus, Japan, Tien Shan, South America, Canada to name a few. First time she visited Siberia more than 10 years ago, and fell in love to this place and each year starts her skiing season there.
Anna was the very first female guide in Russian Mountain Guide stream to get the Ski Guide certification, and still she is the only one certified female Ski Guide in Russia. Now days Anna based in Krasnaya Polyana (Sochi), where she take a role of Lead Guide for local guiding company, and still travelling a lot in search of ideal slopes.
She is also on a way to become a mountain guide, Anna's mountaineering experience includes some serious mountains, such as Peak Lenina, Denali, Marble wall (Central Tien Shan).
CAA Avalanche Operations Level 1 diploma. Wilderness First Aid courses by RMGA standards.
Languages: Russian , English, French.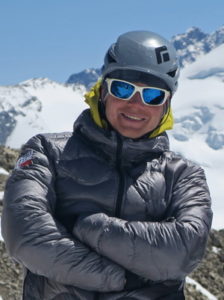 Alexander Krasnov
RMGA Ski Guide
Alexander (Sasha) was born and grew up in small town of Russian Caucasus. In young years he started to do rock and alpine climbing and a bit later started snowboarding and skiing. His guiding and travelling experience includes many areas in Caucasus mountains, Siberia, Kamchatka, Norway, Svalbard and some others. His winter guiding is skitouring, catskiing and heliskiing, in summer time he runs canyoning, caving and climbing trips in Caucasus range.
CAA Avalanche Operations Level 1 diploma. Wilderness First Aid courses by RMGA standards.
Languages: Russian , English.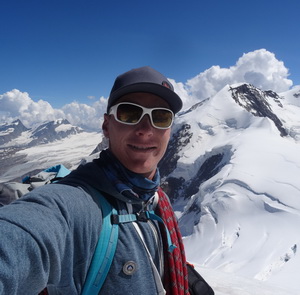 Denis Savelyev
IFMGA Mountain guide
He was born almost in the flat area, Moscow city, where there are not mountains at all. But his passion for climbing and skiing has been ascended from his parents and led him to one of the most experienced and strong alpinists in Russia. One day he got a decision to not only play in mountains but also work, and after long study process became one of the first internationally certified guides in Russia.
His guiding experience started in 2008 and includes many ascents all over the world, including South America, Africa, Himalaya, Caucasus, Alps and many other mountain regions. Now days Denis is guiding mountaineering routes in the Alsp and Caucasus, as well as skitouring and ski-mountaineering programs in Kamchatka.
Languages: English, Russian.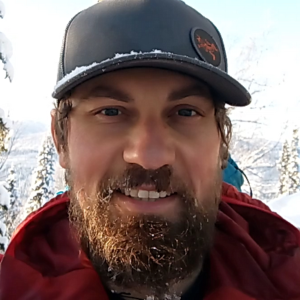 Denis Lomakin
Ski guide in training

Many years ago Denis came to Siberia to learn skitouring, as a guest of our company. He fell in love with touring and powderskiing, and did many trips with our company in Siberia, Kamchatka, Japan and other ski destinations. With the growing of knowledge and experience, he has done many independent skitouring trips in Russia and Alps, as well as educational courses of backcountry skiing, avalanche safety and ski-mountaineering. For the last few years he has been working with us as a tail-guide and operational manager, in Siberia and Kamchatka. He is going to become a certified ski guide, and will join RMGA guide school soon.
Super strong man, passionate skier and simply hospital and friendly person, Denis is just perfect addition to our team.
AST2 avalanche course. Wilderness First Aid courses by RMGA standards.
Languages: English, Russian.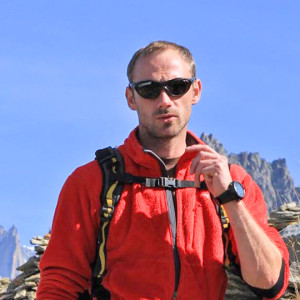 Alexandr Mavrin
RMGA Ski Guide
Alexandr started his guiding career in 2005 in Krasnaya Polyana.  He spent many years heli-skiing in the Caucasus and Kamchatka, as well as spending some time in Chile and Siberia.  Alexandr is now guiding in the Siberia and Caucasus region and is an avalanche forecaster for "Rosa Khutor" ski resort in Krasnaya Polyana (Sochi).
When he is not skiing, you can find Alexander devoting time to his other passion, aeronautics.
CAA level 1, Wilderness First Aid courses by RMGA standards.